SFAR-88
The acronym stands for Special Federal Aviation Regulation 88. It deals with fuel system safety, to include aircraft wire maintenance, aircraft wire and electrical components (pumps, fuel quantity indicators, etc.), not only inside the tanks, but circuitry and items located outside the tanks including adjacent dry bays. By December 2004, operators must include Federal Aviation Administration (FAA)-approved provisions in their inspection and maintenance programs to assure the safety of their aircraft fuel systems. SFAR 88 requirements for continued airworthiness of fuel systems may be the single biggest maintenance change in many years, and for years to come.
The Airplanes and Organizations Affected
All turbine-powered aircraft with a capacity of 30 or more passengers or a payload capacity of 7,500 pounds or more. SFAR 88 affects manufacturers (the type certificate, or TC, holders), those companies holding supplemental type certificates (STCs) involving modifications and installations affecting fuel systems (mostly manufacturers), operators, repair stations and FAA inspectors. The number of STCs affected by SFAR 88 is more than 120. The genesis: SFAR 88 results from a tragedy, the fatal July 1996 explosion of the center wing tank (CWT) of a TWA B747. In its investigation of the TWA Flight 800 tragedy, the National Transportation Safety Board (NTSB) ultimately determined that a short circuit caused flammable vapors in the tank to ignite. Since the TWA tragedy, improved fuel system safety has been on the NTSB's "Most Wanted" list of aviation safety improvements.
The March 2001 CWT explosion of a Thai Airways International B737 on the tarmac at Bangkok added impetus to the effort. SFAR 88 was issued for industry comment just two months after the Bangkok accident. The package: SFAR 88 requires a massive fuel system safety review and analysis, with three outputs: (1) regulatory changes to ensure that ignition sources in fuel systems are prevented by design, (2) changes to existing fuel systems to eliminate potential ignition sources identified by the safety analysis, and (3) maintenance and inspection changes to ensure "continued airworthiness" of fuel systems.
A selective listing of what to expect:
Fuel pumps: Ground fault interrupters (GFI) for all tanks, replacing existing pump power relays. GFIs and automatic shutoff at low fuel levels may be required.
Fuel quantity indication systems (FQIS): Since 115 volt AC current could potentially short to FQIS signal wiring, barrier device protection may be required for all CWTs.
Lightning protection: Improved bonding of fasteners, clamps and pipes attached to (or in) the tank structure will be necessary.
Fault current protection: "K" type fasteners are deemed an unreliable bond and in-tank bonding jumpers may have to be installed in some aircraft.
Wire harnesses over the CWT: Insufficient clearance on some aircraft, such that wires could touch the tank surface. Engineering changes have been developed.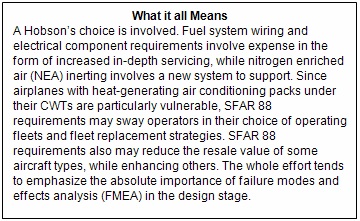 The concept: SFAR 88 effort involves a new term, critical design configuration and control limitations, or CDCCL. TC and STC holders define CDCCLs. Under this concept, all fuel pumps become critical items, as are fuel pump wiring and fuel pump circuit protection devices.
These critical items (CDCCLs) can be subject to mandatory inspection and maintenance tasks. CDCCLs involve design aspects such as wire separation, explosion proof features of a fuel pump, maintenance intervals for transient suppression devices, fuel quantity indication system (FQIS) wiring, minimum bonding jumper resistance levels, and so forth. Any maintenance actions or subsequent changes to the design must not degrade the safety level of the original design over the operational life of the airplane. STC wiring installed adjacent to original design wiring may well be categorized as safety critical under the CDCCL aegis.
If you are interested in wire maintenance, you may want to read Lectromec's The 7 Tenets of Wire Systems Installation article.
A new division of risk: The FAA recently outlined four criteria by which system safety assessments will be approved:
single failures, all tanks,
combinations of failures,
unacceptable service experience, all tanks, and
flammability exposure time of all tanks. Tanks will be divided into low and high exposure, with flammable vapors present in the tank more than seven percent of the time dividing the two.
If an inerting system or flame retardant metal mesh is installed, SFAR 88 requirements need not be carried out on high exposure tanks.
Conclusions
SFAR 88 is here to stay and is likely to have a big impact, including on aircraft life extension programs.
Expect numerous airworthiness directives (ADs), coming soon, with varying compliance times.
Development of an inerting system is likely to continue at a fast pace.
In the meantime, SFAR 88 requires a whole range of wiring and related fuel/electrical system inspection and maintenance activity
For those interested in further reading on the topic, FAA regulation 25.981 goes into further details on fuel tank ignition prevention and the factors that must be considered for aircraft design. Discussion of this regulation can be found here.