Some of the most important elements to the electrical and electronic functions of aerospace vehicles are the cable and wiring harnesses. Accurate transmission of control and data signals is heavily dependent on the cable reliability, wiring harnesses, and connectors. Best design and maintenance practices are crucial to their longevity and reliability. Eliminating stresses to the wire and cable in the harness, as well as contamination in any electrical contact point is crucial to the effectiveness of a wiring harness system. The NASA technical standard, NASA-STD 8739.4, sets these "requirements for interconnecting cable and harness assemblies." In this article, we review portions of the standard and what they mean for implementers.
Harnesses Layout and Fixturing
In advance of wire harness construction, it is common practice for mockups to be developed. According to the NASA technical standard, NASA-STD 8739.4, the mockup, commonly referred to as a 'form board', is used to account for all the physical restraints that are encountered by the cable or harness when installing on a platform. An example of a wiring harness layout. During the construction process, known as fixturing, harnesses are pre-formed, with bends and offsets, to fit a location. This occurs before the application of lacing tape, straps, shielding, or secondary protection, so the harness will not be under tension after installation.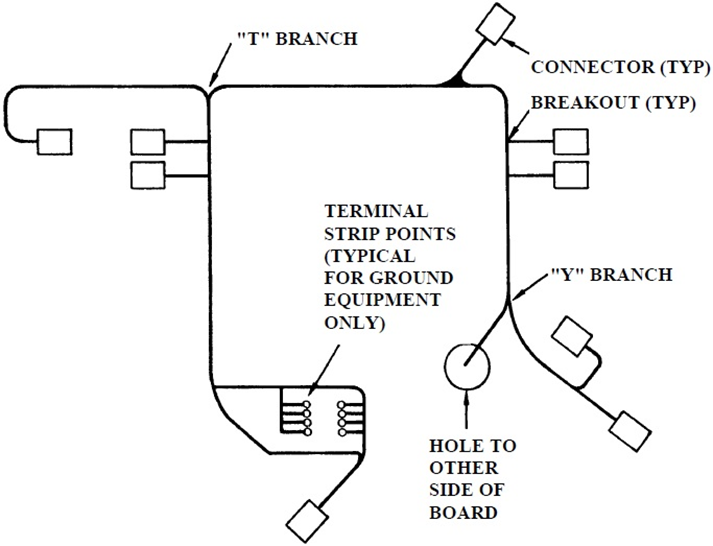 The form board layout should be designed to limit bending, pulling, and distortion during installation. The harness breakouts (locations in the harness where the wiring is split and goes two different directions) are secured on both sides using straps or lacing tape.
According to NASA's Best Workmanship Practice, when coaxial or fiber optic cables are used in the wiring system, the harness should be designed to locate these cables near the center of the bundle to provide protection and limit bending. In practice, this can be difficult as wires and cables will shift during the harness construction/installation process.
There are limits on the flex or bending that a harness should undergo; is called its minimum bend radius. The harness bend radius varies based upon the size of the wires and the overall harness construction. Further, the inclusion of coaxial or fiber optic cables often will impact the bend radius of the harness and require a larger radius than if the harness only contained single wires or multicore cables.
Cable and Harness Protection
Secondary harness protection, or sleeving, is used for a variety of protective tasks. This protection material is used to protect from abrasion, chemical exposure, and heat/fire. Even though spacecraft wiring is not prone to operate in humid environments, moisture is still considered a contaminant and should be protected against. The NASA standard requires that the secondary harness protection sleeving to be installed on all terminations that are not potted. Typically, insulation sleeving is heat shrunk to provide a tight mechanical grip on the covered item as this provides an improved seal.
The NASA standard further recommends that when using pre-woven fabric braid, it must be loose enough to slide over the entire harness. The fabric sleeving is secured by straps, ties, clamps, heat-shrink, or potting material. When the braid is directly woven onto the harness, straps, ties, and "other temporary holding means" are removed prior to application, some "low profile" tapes may be left under the braid. Directly woven braids may be tightly applied to the harness or could be applied as loose as necessary to meet flexibility requirements.
EMI Protection
Another form of sleeving is metal braid. Although the metal braid offers mechanical protection to the harness, metal braid sleeving is typically used as EMI (Electromagnetic Interference) shielding. EMI is a major consideration when designing harnesses for sensitive equipment. It is a requirement, according to NASA technical standard, NASA-STD 8739.4, that harnesses are designed to minimize EMI between wires in the assembly.
Overall EMI shielding is the only type of sleeving that is not entirely insulated from the cable. To ensure the shield is at ground potential, the steel braid shielding is attached to the connector shell using RFI/EMI back shell adapters. The individual cable shield terminations are then electrically connected with the use of heat-shrinkable solder sleeves. To limit the potential impact of component failure, the recommendation is to limit the number of shields spliced to a common ground wire to no more than four. Lastly, excessive length of grounding wire may act as an antenna and should be trimmed.
Summary
The NASA standard provides good recommendations for designing and building wire harnesses for space applications. For those working on aircraft wire harnesses, this standard should be considered for areas within your own standard practices.
Further, it is sometimes necessary to get these external views into the design process to ensure every effort is taken for proper/reliable system design. The team at Lectromec is ready to help with the development or external review of your wiring practices. Contact us to find out more.