Performing routine aircraft wire systems visual inspections is a critical aspect of maintaining aircraft airworthiness and extending the component lifecycle. A visual inspection is the first step in assessing the condition of a component or determining what future steps need to be taken. This article discusses recommended techniques based on MIL-HDBK-522, which provides EWIS inspection guidance and lessons learned.
Inspection of Wiring from Supply System
Before performing maintenance actions to replace wires, they should be examined for any physical damage such as cuts, burns, or abrasion. The conductor should be closely examined for any corrosion, by carefully removing the insulation without causing any damage to the conductor (a properly maintained wire stripper should be able to accomplish this). Conductor discolorations or rough surfaces are good indications of corrosion. Such conductors should be discarded and not installed.
All wires must be legibly marked with an identification code. Not marking wires can result not only in the installation of unknown wires, but also in slowing down the speed of future maintenance operations (i.e., lack of clear identification will slow replacement). In the figure to the right, the image on the left shows how the wire should be received from the manufacturer—properly wrapped on a wire spool. The image on the right shows an improper way of maintaining wires as it can cause stress to the conductor and insulation for any sharp bends.
Insulation Inspection
Insulation should be carefully examined visually for cracking, heat damage, moisture/fluid damage, and mechanical damage from maintenance activities. More in depth analysis is possible with degradation assessment. Harnesses routed in SWAMP (Severe Wind And Moisture Prone) environments should be examined more frequently for these issues as these harnesses are prone to faster degradation.
In the figure to the right, the image on the left shows that some of the insulation is flaking off, exposing the polyimide. This condition is acceptable and does not require replacement as the conductor is not exposed. However, it should be noted, and a future visual inspection should be performed to monitor the degradation. The image on the right shows the damage caused by an electrical arcing event, which causes severe damage to a wire harness.
Harness Routing Inspection
When running and/or installing harnesses, there are a few techniques that are recommended to prevent damage. Among the more obvious ones is that harnesses should be routed in a way that minimizes abrasion with other harnesses—harness-to-harness abrasion can cause rapid deterioration. Another is to have them run parallel to each other to prevent abrasion. Shown in the left side image of the figure, is a wire that has crossed over and is not running in parallel. This situation is unacceptable. When installing harnesses or making repairs, the lengths of the wires should be sufficient so that it does not result in any unnecessary tension in the harness. The wire lengths should also not be so long that it results in excess wiring. The image on the right also illustrates an unacceptable situation, where a few wires are too long causing them to separate from the harness.
Cable Protection Inspection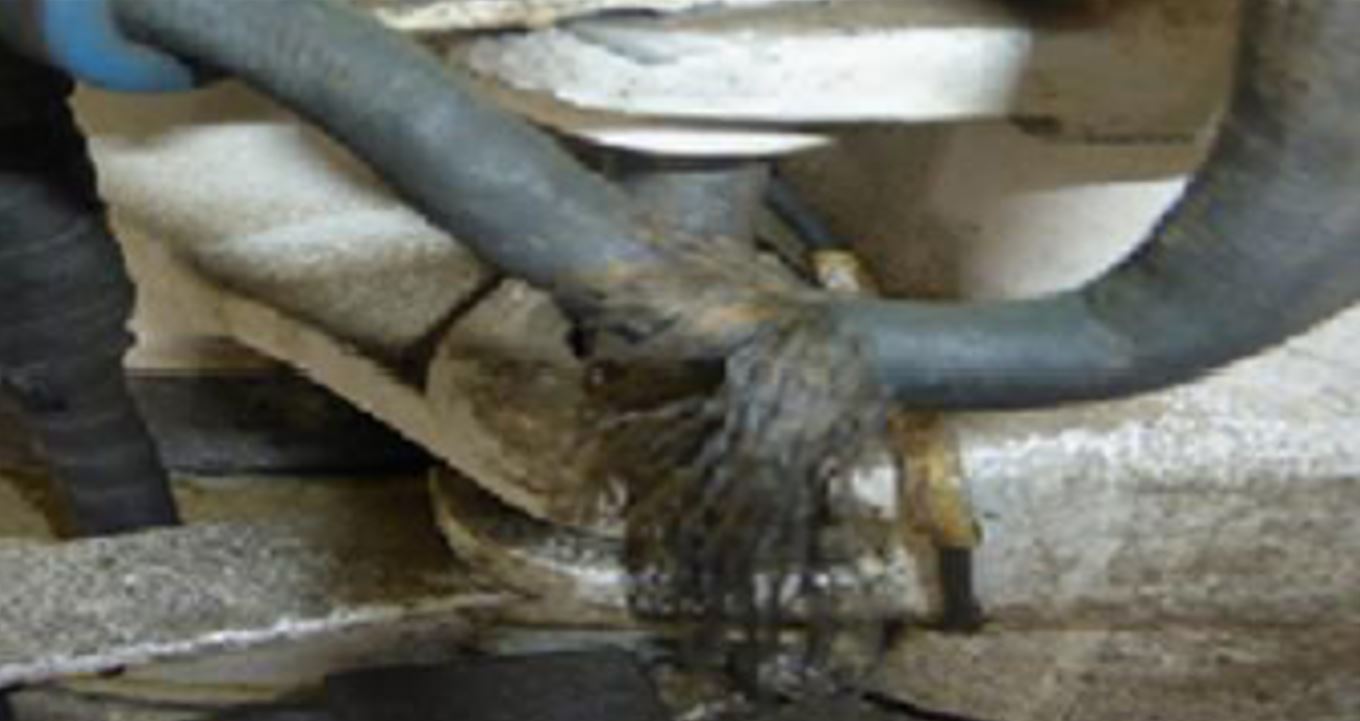 Cable protection is important in extending the lifecycle of harnesses. When performing an inspection of the cable protection, the sleeves should not be fraying (as shown in this image). Harnesses should be examined for chaffing. Chaffing is more likely to occur either when harnesses are routed close to other equipment/structures or when one harness is directly resting on another. This situation can be avoided by properly routing wires/harnesses and installing standoffs to prevent contact points. When routing harnesses, tight bends are not recommended as they can cause unnecessary stress to the wire. Sharp bends are commonly seen close to connectors. See Lectromec's article on bend radius for more information.
Cable Clamp Inspection
The purpose of cable clamps is to secure harnesses in place to prevent chaffing against structures. Clamps should be tightly fit to the harness size, but not so tight that they cause chaffing. This image shows a clamp that is too large for the harness size. The harness can freely move around and is not properly secured in place. The clamp itself should also be properly secured in place. A light shake of the clamps can be performed to ensure all clamps are tightly secured to the aircraft.
Summary
For more information, you can read MIL-HDBK-522, which provides excellent guidance, tips, and techniques for performing effective visual inspections.