The proper installation of wiring will dramatically reduce unnecessary stresses and result in an uneventful service life. In the real world, wires rub against various airplane components and can create unsafe conditions from both physical and functional viewpoints. Because of this, materials must be selected that can endure mechanical stresses and not pose a hazard to an aircraft's airworthiness.
There are several considerations that go into determining the abrasion resistance tolerance necessary for an application. Both the materials and the processing of wires/cables have an impact on abrasion resistance. In the blog Assessment of Mechanical Stress on Wire Insulation, published two weeks ago, Lectromec reviewed the cut-through test methods. Here we look at abrasion test methods and how the results can help you to understand the service life of airplane components.
Scrape Abrasion
The scrape abrasion test is a common test used in wire qualification. In this test method, a sample wire/cable is placed under a 'sharp' edge (see figure for configuration). The edge then slowly moves back and forth across the surface of the wire. Once an electrical connection is made between the cutting edge and the wire, the test is completed.
In Service Consideration
With any test, it is necessary to also consider what the test results mean from an application perspective. Wires and cables should be routed in such a way that there is positive separation between the harness and the potential chafing locations (e.g. edges of equipment, structure, hydraulic lines, and flight control cables). Even with design guidance and best practices, abrasion still happens. Clamps break, mountings come loose, equipment is not stored correctly – there are dozens of reasons why abrasion may take place. If a harness comes in contact with another object in an aircraft application, factors such as harness weight, contact location (flat surface or edge), and vibration/sway frequency will impact the actual time to failure on airplane. As such, the results of abrasion testing should only give confidence in comparative endurance of wires, not the time to failure.
Cable to Cable Abrasion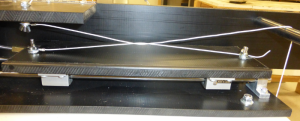 In the cable to cable abrasion test, two cables are placed in tight contact with one another and a lateral motion is applied to cause abrasion between the samples. Depending on the particular specification and customer need, this test may include a requirement of over one million cycles. At the typical testing frequency, this means that the test would run for at least 25 hours.
An example of the test is shown in the figure above. The contact location of the wires/cables is created so that there is good contact across an inch of the samples. The end of the test condition occurs when the conductors of each wire make contact.
In aircraft comparison
The scenario considered for this setup is the wire-to-wire endurance and the interaction between a wire and another wire of the same type in a harness if different tensions are placed on the wires. This scenario also considers poor routing where one harness rests upon another.
Similar to many other tests that are performed as part of wire certification, this test does not provide a clear basis for in-aircraft life, but it does give information on a couple of areas:
The wire insulation stiffness. Insulations that have higher friction coefficients are likely to abrade through each other more quickly (though these may be easier to handle).
Performance of seamless topcoats. One of the more recent developments for wire constructions has been to create wires and cables without a noticeable seam. These seamless constructions have been found to reduce damage during harness fabrication and installation. Those wires/cables with seamless topcoats are likely to perform much better than their 'seamed' counterparts.
FAA Research
In the last decade the FAA funded testing to determine if different wire types in a harness resulted in reduced service life. For example, polyimide insulation is a hard material and may damage other insulations such as PTFE (Teflon®)-insulated wires. The examination found that there was no discernable difference in the service life of homogeneous or heterogeneous harness constructions. This information is good news for those who wish to progressively update their airplane wiring.
Conclusion
Abrasion resistance is an important characteristic of wire insulation and those wires with greater abrasion resistance will perform better in-service. The most common tradeoff for the improved physical strength will be wire/cable weight. Though the development of seamless constructions has done a lot to improve abrasion resistance, future improvements will likely affect the material types. Some designer may find an acceptable alternative in using 'weaker' insulations on the wire/cable and supplement it with additional sleeving materials. Although this may result in a weight increase, it may also reduce the overall harness diameter. There are many tradeoffs in aerospace system design and abrasion resistance is just one more to consider.